About Pat Velte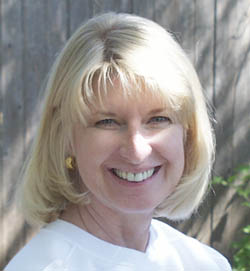 A native of Michigan, Pat Velte pvelte@cox.net credits her mother's fascination with birds as an inspiration for her interest in creating her Backyard Bird Cam. This project to open an Internet "window" to the wild birds at her feeders has since become a tribute to her late husband's lifelong love of birds, "critters," and all elements of the natural world, especially those that aren't contained by walls and fences. Her husband, Rick Kise, died in April 2002 and the birds that visit the backyard feeders are an ever present reminder of Rick and a constant source of joy, awe and comfort.
Pat worked in the broadcast television industry for 30 years. Her career began in graphic design, led to a role as art director and ultimately to Internet development and management.
The initial concept for her Backyard Bird Cam was launched in March 2001 when she developed the Bird Habitat Cam at Oklahoma City's Martin Park Nature Center for 9Online. Although technical problems created by the dial-up Internet connection from the park to the server caused numerous difficulties, Pat still held on to the idea of putting the areas' birds on the Internet - live!
Later that year, after a series of career changing events, Pat made the Backyard Bird Cam her first post-employment project and successfully eliminated the problems that had plagued the earlier project. In January 2003, Pat added a second camera to her yard, putting the focus on the ground feeding birds, especially the White-winged and Eurasian Collared-Dove (although the sparrows, grackles and starlings get more than their fair share of camera time!).
A self-described novice at birding, Pat says she is enjoying learning more about the wonderful birds that visit the backyard feeders and through her trips to birding "hot-spots" and nearby Lake Hefner, is expanding her interest in wild bird photography.
2002-20010 Participant
Christmas Bird Count, Oklahoma City (West) 2002 - 2008
Okla. Dept. Wildlife Conservation 2003 - 2009 Winter Bird Feeder Survey